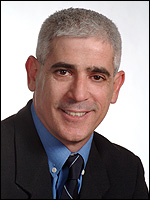 Dr. Ron Zohar obtained his Bachelor in Medical Science from the faculty of Medicine, Ben Gurion University, Israel. DMD from Tel-Aviv University where he joined the teaching staff of the Department of Prosthetic Dentistry shortly after his graduation in 1987.
Dr. Zohar started his Graduate training in Periodontology at Tel-Aviv University and was sent as part of the program in 1994 to University of Toronto where he completed in 1998 a combined PhD/Clinical periodontology program in the universities of Toronto and Tel-Aviv respectively, which was followed in 2000, with a fellowship of the Royal College of Dentists of Canadian Periodontology.
Dr. Zohar returned to Toronto in 2002 to take a full time position at the University of Toronto where he was active in clinical training as well as building a clinically translational research. Dr. Zohar is also serving as an examiner for the Royal College of Dentists of Canada in Periodontics. Dr. Zohar's clinical work is focused on Regenerative Periodontology and Implant therapy.